The most iconic and well-known pieces that have revolutionised Mid-Century furniture design typically refer to lounge chairs. With potential to either complete a living space or alternatively completely overthrow style, finding the perfect lounge for your space can be tricky. Australian owned and operated small business, Replica Furniture, offers a wide array of designer replica lounge seating to cater to differing styles. From Charles Eames to Finn Juhl, each Replica Furniture product is crafted to exact specifications of the original design. Read on to view our most popular Replica Lounge Chairs and find the best suit for your space! Alternatively, click here to view our full range!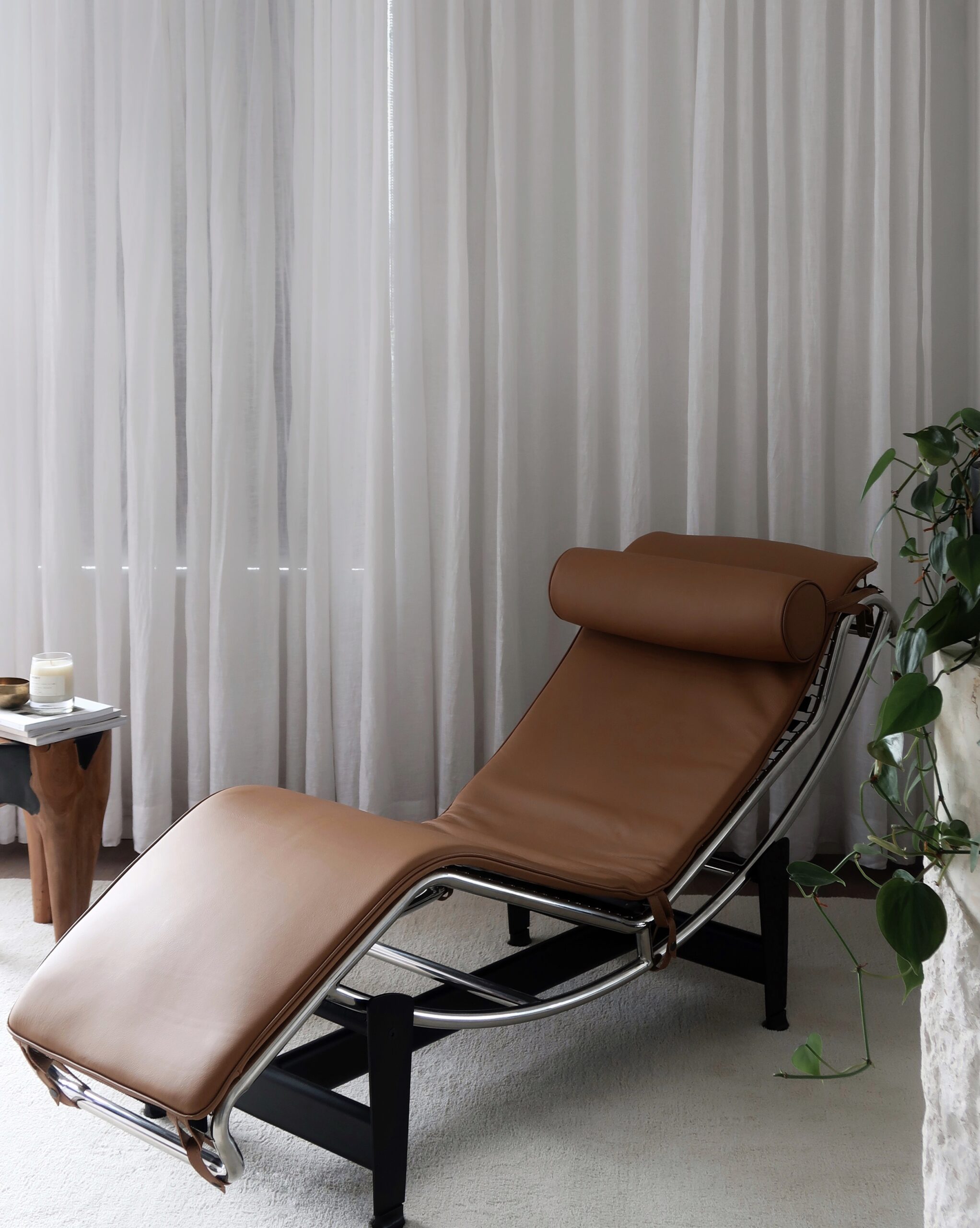 Pictured here is the Replica Le Corbusier LC4 Chaise Longue finished in a Cognac Italian Leather. The sleek and modern design of this piece is just as practical as it is stylish. With adjustable seating angles and a plush head cushion this product is great for any occasion. Whether going for an afternoon nap in the sunroom or wanting to read a few chapters in the home office before bed, this versatile product can do it all. For this specific Cognac finish, styling in a room with neutral colours and natural lighting such as this would suit best.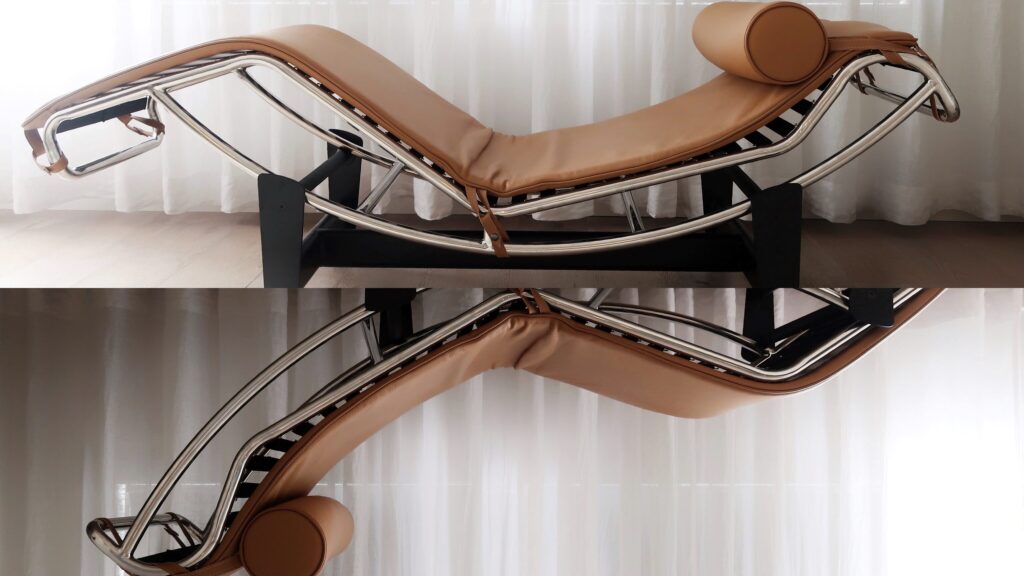 Replica Lounge Chairs; Charles Eames
Lounge Chairs hold a deceivable amount of influence in a living space. Often due to the bulkiness and size of the product, they can quickly become a statement or focus piece, even without the intention of doing so. As a result, selecting the wrong lounge chair has the capability to totally subvert your pre-established interior style. Therefore, finding your best suit will not only depend on practicality of the product but also the perfect colour and material compliment to your space. Replica Furniture understands this and subsequently works hard to offer several differing finishes in their Replications as to cater to diverse styles. For instance, the Replica Charles Eames Lounge Chair and Ottoman Range ranges up to seven different finishes. Such options include use of White, Brown, Tan or Black Premium Italian Leather along with Rosewood, Walnut or Oak frames.
As pictured above, the Replica Charles Eames Lounge and Ottoman finished with Rosewood in either White or Black Italian Leather, carries a more classic and sleek look. This is due to the dark frame that proudly showcases all naturally occurring woodgrains and markings. Subsequently, this finish would suit best a space that decorated with dark shades and polished textures.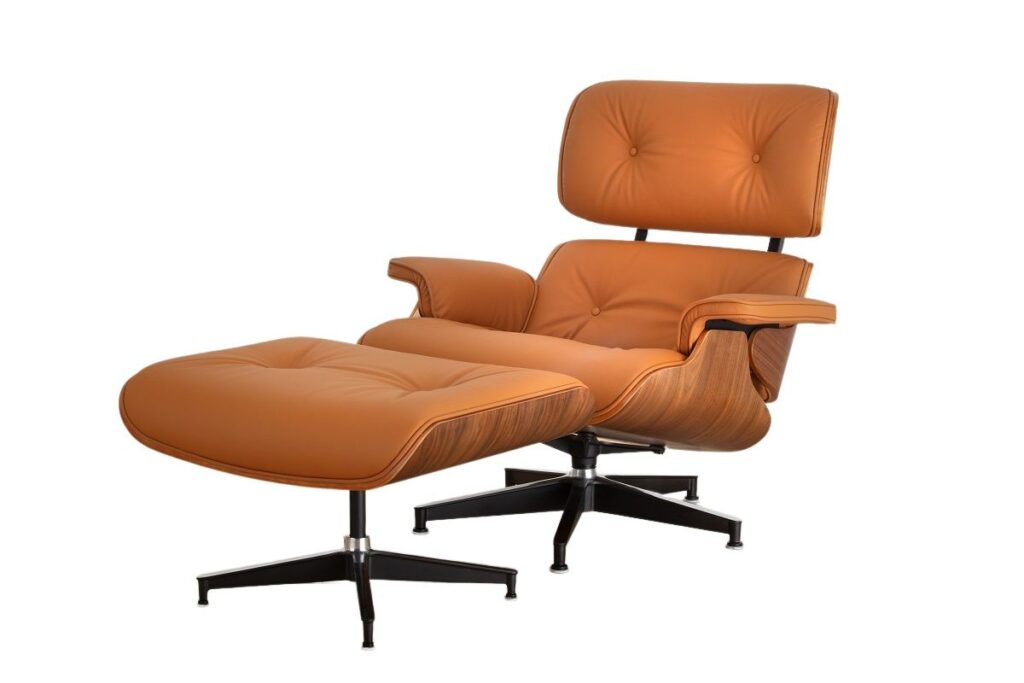 Shown here is the same product however finished in a Tan premium Italian leather and walnut frame. This bolder Tan finish, less commonly seen, would best suit a space that is in need of a pop of colour. This will piece will be sure to tie your space together while it still standing out. Certainly a focus piece!
Replica Lounge Chairs; Finn Juhl
Pictured below is the Replica Finn Juhl 45 Chair in both the Grey and Teal colour options styled within our Brisbane Showroom. His gorgeous and retro designs that once transformed the furniture design industry display a more simple and modern structure. Furthermore, this simple design also makes for a somewhat lightweight and generally more compact design. Subsequently, these models may be more suited to a space with more spatial limitations and a direct colour pallet. For example, a Grey option as to compliment a darker toned space, additionally the teal for a focus point and duality of colours.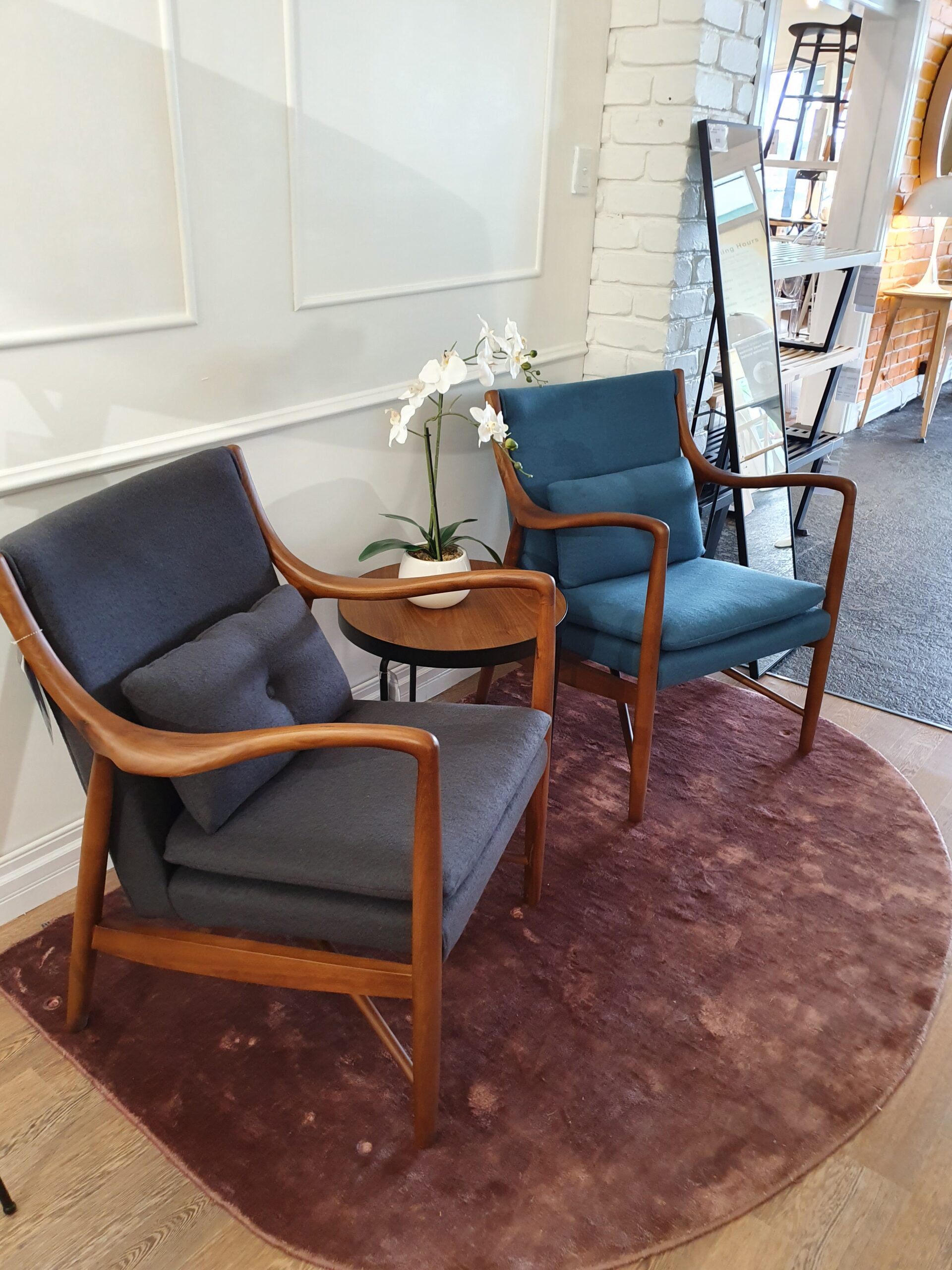 Here to Help!
Need assistance finding the best finish for your space? Unsure of which Replica Lounge Chair Design is best suited to your style? Get in contact with us today to find your ideal furnishings best suited to your personal style! Furthermore, visit our Brisbane showroom today to view our full range and be assisted by our knowledgeable and friendly staff. Additionally, reach our helpful customer service team by phone Monday to Friday. In short, we are happy to chat through any product queries or just general styling advice. This is all part of our dedication to ensuring our customers not only receive the best possible shopping experience but are also confident in their purchase.