Selecting the ideal dining chair for your space is often a tricky and lengthy process. From considering the style, colour, measure and material to suitability and functionality, it can easily become all consuming. Replica Furniture has been helping the public through this process for years. Supplying the right suit for each business or household and therefor have since complied all you may need to consider when selecting your ideal dining chair. Read on to find out more!
Suitability and Functionality
When choosing your ideal dining chair, one must first consider the suitability to their needs. Whether purchasing for a business in commercial use or a personal purchase for your home- Replica Furniture is here to help.
Personal
When making a personal purchase for ones household, suitability for your needs is often the factor that gets overlooked in this exciting last selection . Determining first whether your dining space obtains a formal or casual atmosphere is key. This will simplify the selection process and encourage your choice of dining chair to compliment the pre-existing space rather than over-power it. For a casual dining space that already obtains minimal or relaxed styling, a chair that would best suit would be one of the same influence.
A suggested suit for this would be the Replica J77 Dining Chair. The Replica J77 Dining Chair achieves a minimal yet durable design. This is done by use of sturdy timber with slight bends in prime places. The open backing of the chair also adds to the products overall suitability . Allowing potential for seat cushions to be added for individuals wanting extra cushioning. Or alternatively, just to add your own style flair to the seat.
Commercial
For commercial use, a dining chair selection will most likely depend more on the functionality of the chair. Such functional considerations would include storage ease, use of durable material and colour options available. The Replica Form Chair is a perfect example of a product that acquires many functional requirements. The Replica Form Chair retains graceful style through its solid Beech timber frame while upkeeping extreme durability from the seat's use of Polypropylene plastic. This chair will stand the test of time through its thoughtful material makeup and furthermore offers two colour options. This gives businesses opportunity for variety in their space while up-keeping cohesion. These important factors overall adds suitability and functionality to the product.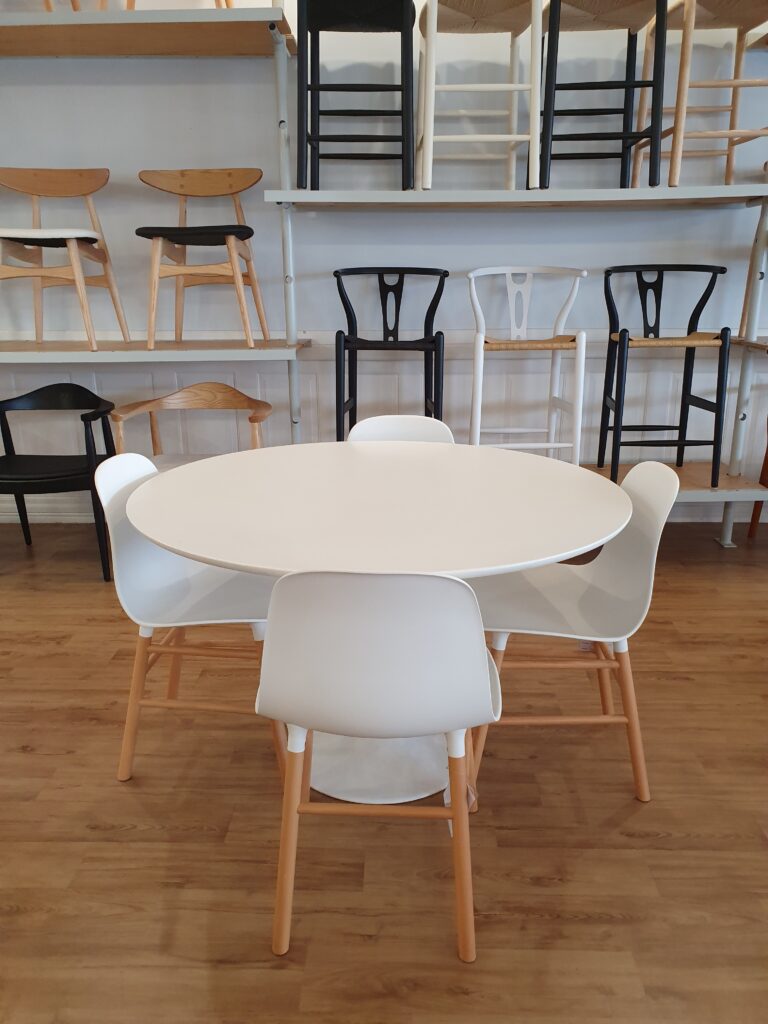 Selecting the Ideal Dining Chair Material
Replica Furniture offers a variety of material options in our Dining chair range. Determining the correct material for you will depend on your individual needs and style. Polypropylene plastic dining chairs prove to be more popular with businesses or individuals that value durability and endurance in furnishings. Polypropylene plastic is typically used in microwavable plastics. This is because it has a high melting point and therefor proves to stand the test of time. This material is also easy to clean and abstains from easily staining or scratching, suitable for frequent use. The Replica Macey Dining chair is another great example of use of Polypropylene plastic, alike the Replica Form Chair.
Alternatively, timber made chairs offer similar durability while being able to retain an elegant feel that can sometimes be lost in alternative materials. A prime example of the is the Replica Ironica chair. The structure of this chair shows classic use of timber with slight curving in key spots. This adds comfort and personality to the piece. This chair could easily be made from a range of different materials. But the thoughtful use of timber allows this detailing of slight curving to be more effective and visible. The Replica Ironica Chair would be perfect for spaces that desire a minimal yet effective style addition.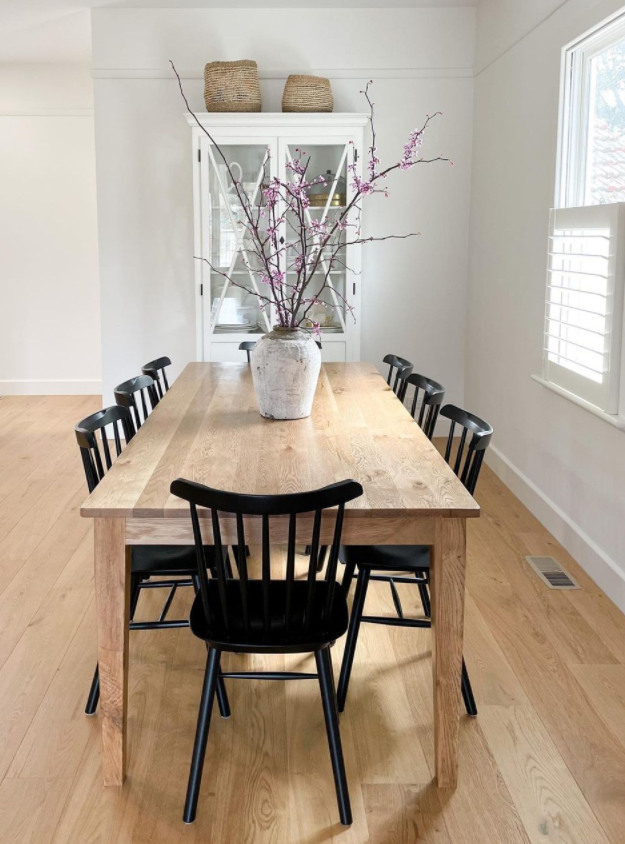 Selecting the Ideal Dining Chair Quantity & Measurements
When considering purchasing your next dining chair, knowing the correct quantity for your space is essential. The standard dining table will usually seat 4-6 people, however depends on the chair size itself and the spatial limits. Additionally, nowadays we see oval and circular dining tables making a comeback which again effect the dining chair considerations one must take.
Knowing the dimensions of your intended tabletop will allow a rough idea of how many seats may fit in the space. However, knowing the space held between the dining tables legs is the essential and key preference. Having this information will certify the correct quantity of chairs that will comfortably fit around your chosen table. This is a determining factor, yet often overlooked, especially for chairs that obtain full or half arm rests. After knowing the space held between the tables legs, one may begin determining the ideal dining chair for their space.
The depth, width, total height and seat height are all equally vital considerations when purchasing your next dining chair. It is important to know, the measurements come from the widest, lengthiest, and tallest points of the chair. This ensures that there will be no room for error in your calculations, especially when considering chairs with arm rests. For example, the ever-popular Replica Wishbone Chair measures a seat width smaller than the full structured width (which includes the arm rests). Dividing the width measurements of your selected chair to the space held between your table's legs will give you a more accurate idea of how many chairs can fit comfortably around your table.
Selecting the Ideal Dining Chair with Replica Furniture
Whatever your needs and desires may be when looking for a dining chair to complete your space- Replica Furniture is here to help! Click here to view the full range of Replica Furniture Dining Chairs. Alternatively, our friendly showroom staff are waiting to assist you from our Kedron Showroom.