The ease of lockdown restrictions throughout the nation coinciding with the beginning of Spring and Summer months shows our beloved outdoor get-togethers returning to normalcy. Ensure your weekend BBQ's and outdoor dinners won't be cut short by use of inadequate, poorly made outdoor furnishings. Make certain that your business invests in long-lasting outdoor furnishings that will not only remain worthwhile but also continually provide the most enjoyable outdoor seating for your patrons. UV Stabilization, weather resistance, comfortability and style are all at the forefront of Replica Furniture's Outdoor Range. Click here to view our full outdoor range.
Suitable for Home & Commercial Use
As we rear closer to the end of the year and warmer months, entertaining family, and friends in the garden or on the deck becomes the new norm. Therefor the need for quality outdoor furniture grows evident. Replica Furniture understands this necessity and has worked to create a variety of products. These include different sized tables and seating, using diverse materials that in-turn create distinctive styles to best suit your space. For instance Replica Furniture's popular stock of Siesta Group products. Siesta Group products offer UV-Stabilized & weather-tested coffee tables, bar tables, dining tables & matching seating of different sizes.
Products such as these include, the Vegas Bar Table, the Vegas Outdoor Dining Table and the Ocean Coffee Table. This particular range has shown to be common for Hospitality or Accommodation businesses looking for different pieces yet still aiming for cohesion throughout their space.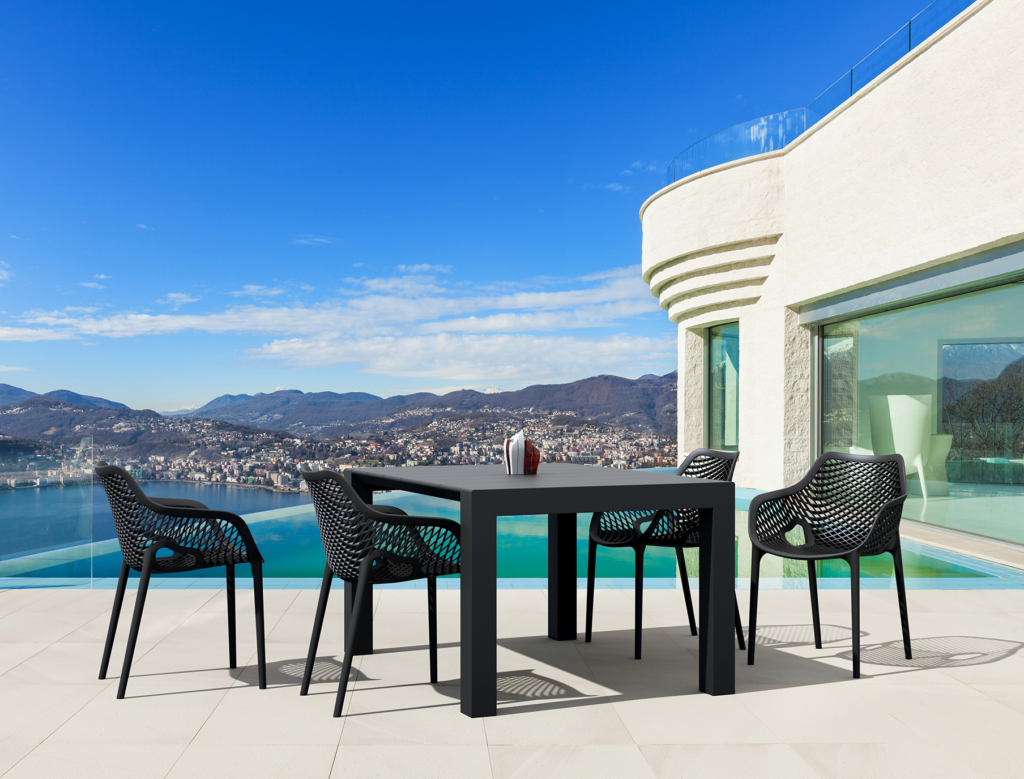 Built To Last
Being an Australian owned and operated business, Replica Furniture understand the severity of the Australian summers. In this we know the importance of purchasing durable, weather resistant, outdoor furniture that can withstand intense UV Rays, harsh storms and humid days. The use of Polypropylene in many products throughout our Outdoor Range reflects our understanding of this.
Polypropylene is a chemical compound typically used in microwavable plastics. This is because it obtains a high-level melting point. The use of this chemical compound ensures UV-Stabilization in the product. This certifies that there will be no sun damage, colour loss or overall depreciation to your furniture under the scorching Australian sun. The thoughtful use of Polypropylene also ensures the furniture will be unreactive to water, detergents, acids or bases, adding further durability. Products that feature this chemical compound include the Replica Air Chair, the Air Bar Stool by Siesta and the Plank Outdoor Plastic Chair.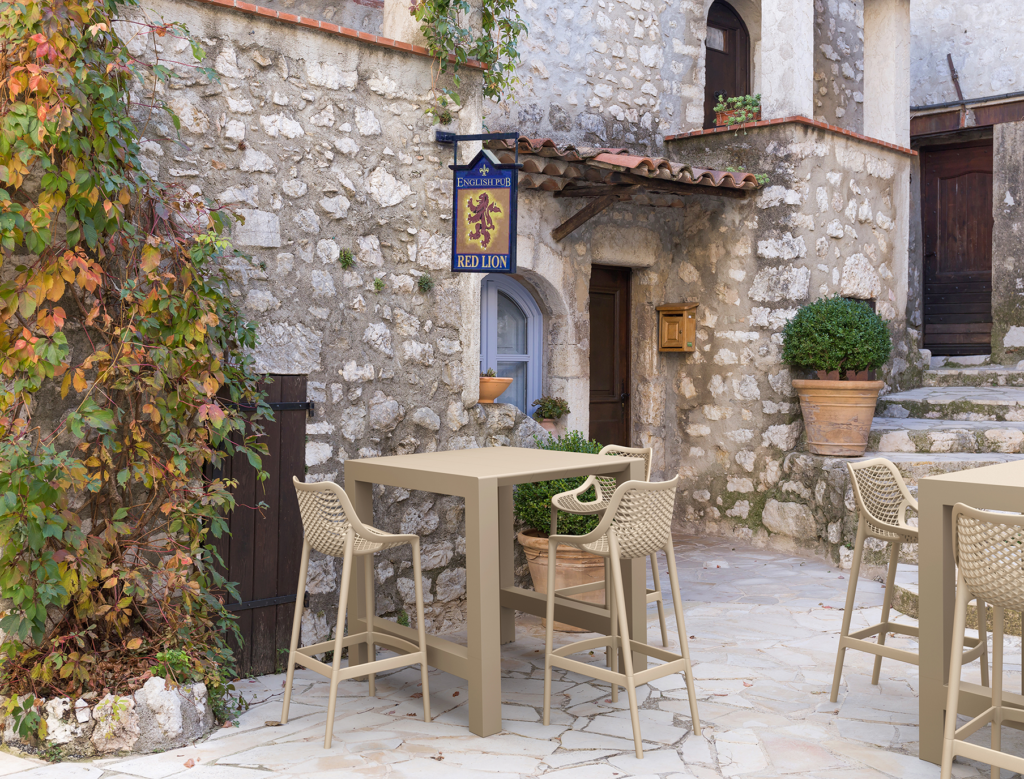 Furthermore, if the plastic build is not your style, Replica Furniture's Outdoor Range features products made entirely of Aluminum. Such as the Replica Fermob Luxembourg Chair. We find Aluminum to be a popular choice throughout our outdoor range. This is for its durability and versatility, the softer metal often works well in indoor spaces too. The Replica US Navy Backless Counter Stool is often bought for this specific reason of indoor/outdoor utilization. We believe Aluminum is another ideal material for outdoors. This is because its inability to ever rust, unlike Iron or Steel made products of the same structure.
Variety of products to suit your space
Comfort, style and suitability are the critical considerations to make when selecting the outdoor furnishings for your space. Replica Furniture knows the complexity of this process. It's why we work to offer multiple sizes & colour options within the same products. Such as the Replica Viento Chair available in Black, White, Orange and Green. Additionally, the Vegas Table available in multiple sizes. After determining this, the overall style and cohesion of your space will start to become apparent. Similarly, we the use of differing materials is for this same reason of catering to a variety of different needs in families or businesses. Visit our Replica Furniture Brisbane showroom today to experience the extreme comfort of our outdoor range yourself.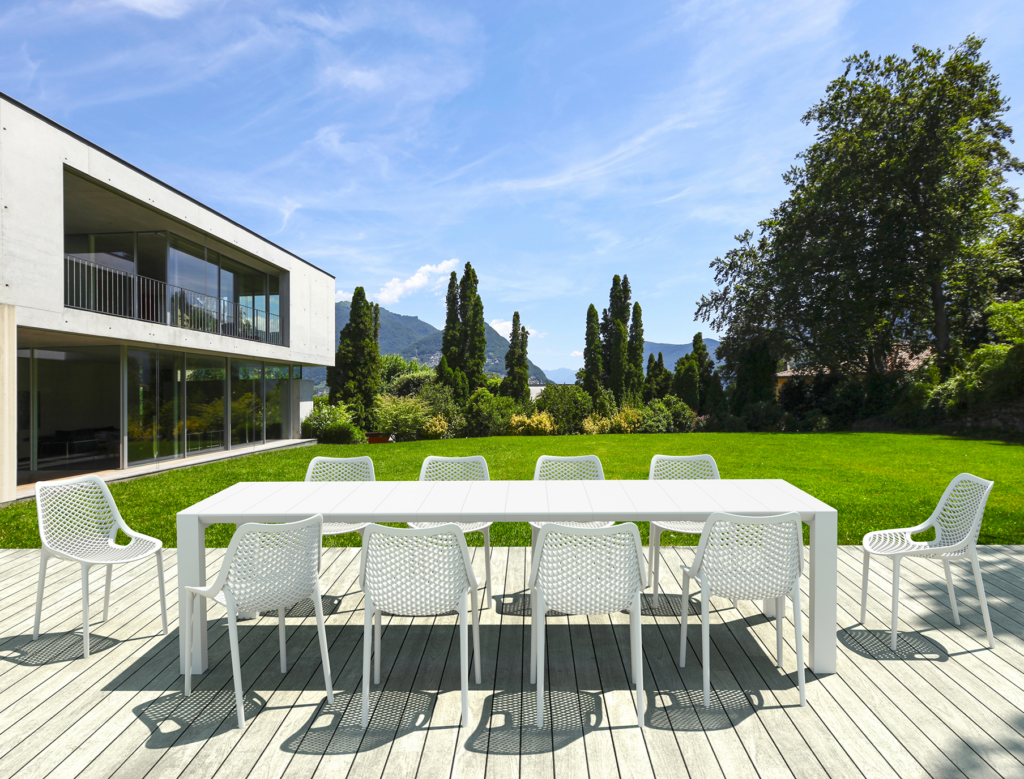 Click here to view our full outdoor range!