Bench seating is a quick and easy way to elevate and enhance any room. However, they can often be challenging to style correctly. From considering differing materials, complimenting style and placement throughout your home, there is lots to think about! Australian Owned and Operated Furniture specialists, Replica Furniture is here to help! Covering how to style benches throughout each room with specific product suggestions, you'll find what's best for your Sydney, Melbourne, Brisbane home in no time! Read on to find out more or click here to view our full range of Bench Seating.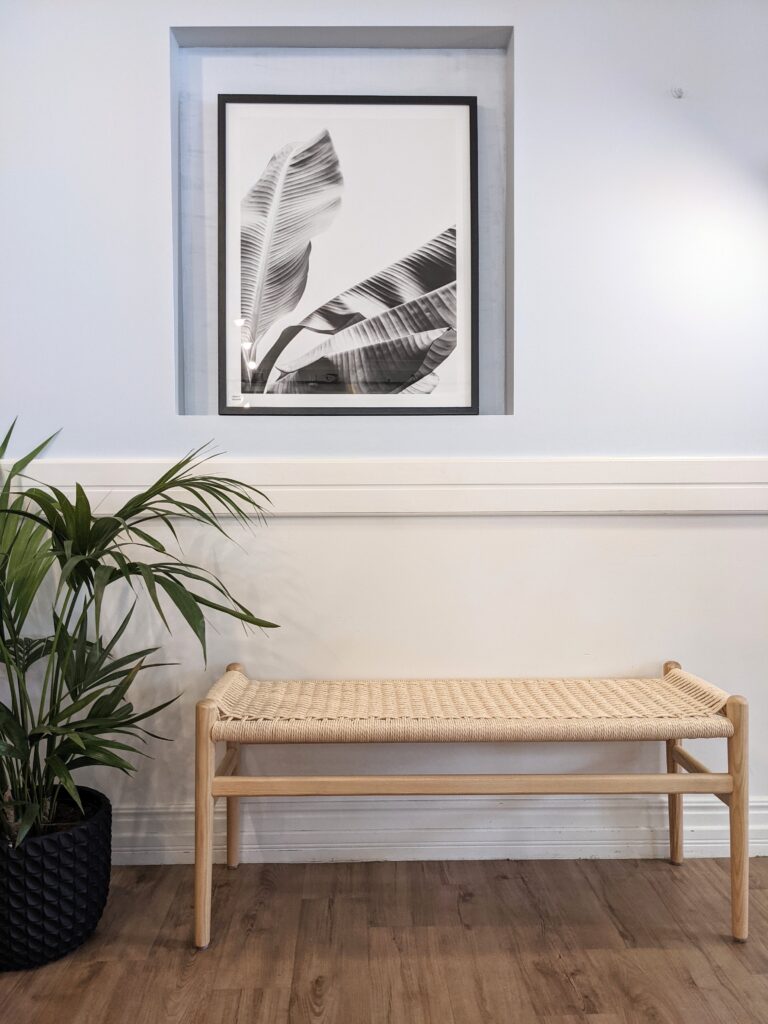 How to Style Benches; Hallway & Entrance Way
Replica Furniture knows that when working with an vastly open space such as an entrance way or hallway, styling can be challenging. There is little space to work with yet so much at the same time. Placing a bench in a hallway or entrance way makes the job of separating or filling open spaces much easier. Pictured above, the Replica J83B Bench Seat by Jorgen Baekmark is styled to fill the awkward open space beneath artwork. Here it is clear how implementing a bench in an open space can not only elevate the look of the room but also add functionality and convenience.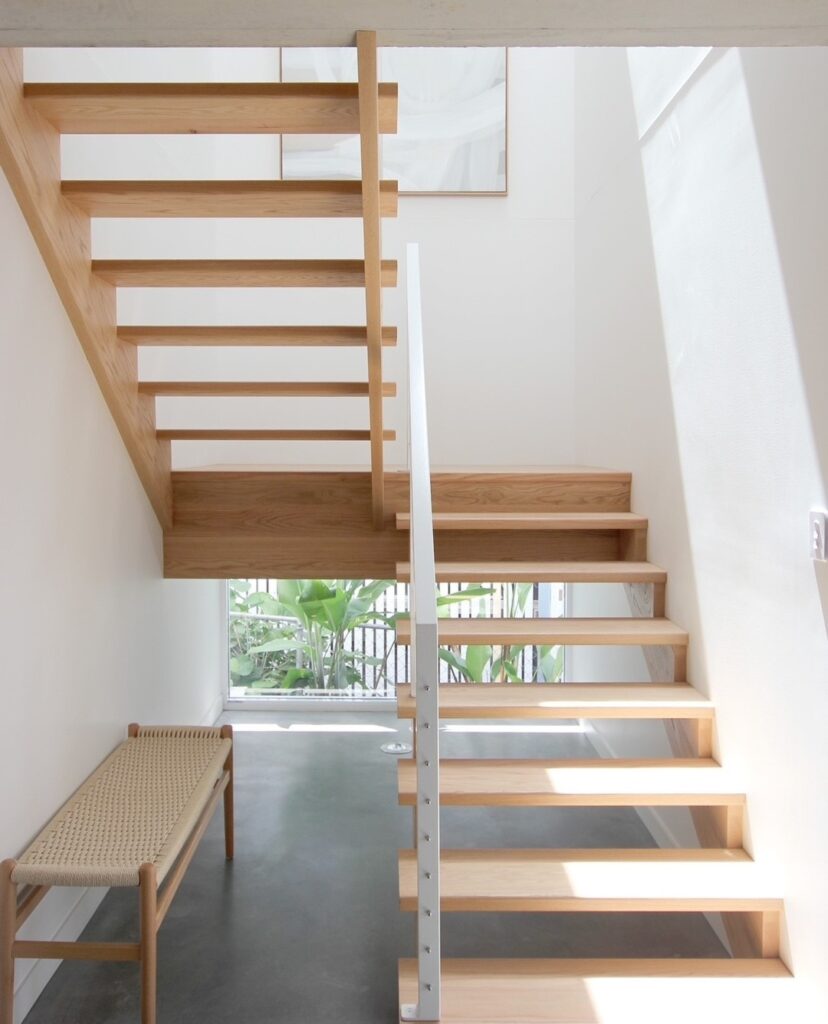 The picture above demonstrates another prime example of how the Replica J83B Bench Seat by Jorgen Baekmark can be successful in filling a previously overlooked space. Here, Replica Furniture's use of soft rattan and overall lightness of the Solid Ash Wood creates an understated and effective look. This allows the space to be filled without drawing too much attention or interrupting the pre-set style. Furthermore, this piece has been thoughtfully styled close by a staircase of similar shaded wood. In turn, creating a great sense of cohesion without taking away from the focal point of the room.
How to Style Benches; Dining Room.
Bench seating is becoming increasingly more common as an alternate seating option around the typical dining table. Styling benches or a singular bench to accompany your dining table is a simple way to modernize your entire space. In turn, this alters what can so often be mundane and identical throughout every house to a fresh and contemporary interior look unique to your home.
Furthermore, the refined look of pairing dining tables with benches encourages the table to remain the focal point of the room. With statement dining tables growing more popular, a bench seat is a great way to avoid any overpowering that may be brought from implementing 6-8 dining chairs. As seen in the Replica Furniture showroom, the Replica Mason Upholstered Black Timber Bench Seat, pairs beautifully with the Replica Black Massey Dining Table. This bench allows the dining table to be complimented in style while still remaining a center focus of the room. The option to organize your table with benching exclusive to one side and chairs on the opposing side similarly creates this effect.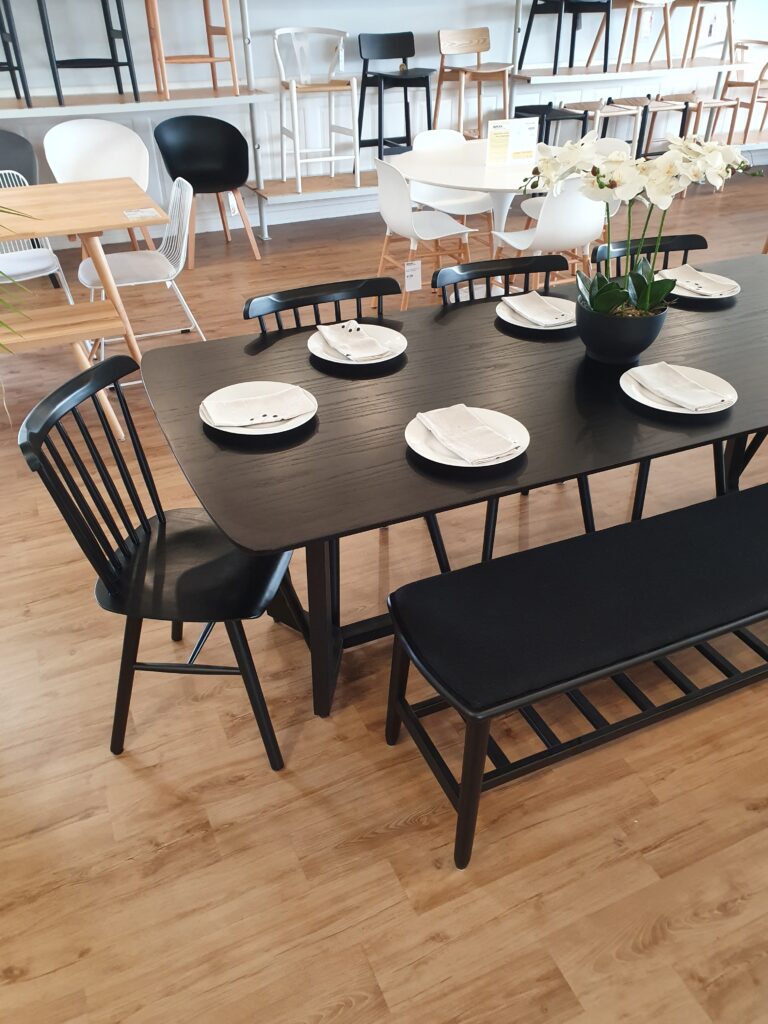 How to Style Benches; Bedroom & Bathroom
Benches are also highly useful in both the bedroom and bathroom. For instance, placing one at the end of your bed to the hold the Duvet on those warmer summer nights. Alternatively, push it up against a wall to act as extra general surface space for folded clothes, bags or loose items. For example, styling the Replica Furniture 'Fabric Bench by Alteri Designs' in the bedroom makes for a functional and complimenting match. The soft grey fabric of the bench emits a comforting essence. Therefor ensures the piece not only fits the energy of the room but also looks inviting to use.
For bathroom styling ~ moving a bench next to the bathtub will provide the utmost luxury. Envision having your laptop, books, drinks or candles close by while remaining comfortable in the bath! The Granada Timber Bench By Dane Craft is the prime example of a bench that will achieve this purpose successfully. The sleek and simple timber design shows clear Scandinavian influence reinforced by the use of solid Ash Wood. This piece holds simplicity that would be ideal for a relaxed environment such as a bedroom or bathroom . Furthermore, the unobstructed and wide, flat lay of the benchtop ensures sufficient room and stability for any drinks, books or loose items.
Loan Service
If you are unsure of which style will suit your space best, why not take advantage of our loan service! Replica Furniture's Loan Service allows you to take a product home for a full 24hrs. Allowing you to try it out in your own space, free of charge! We understand that often times when purchasing furniture, it is not always guaranteed to suit your space as much as you once thought it might. Ensure a confident decision by trying the piece out in your own space before making a solid purchase. This is all part of Replica Furniture's commitment to ensuring our customers have the best shopping experience possible.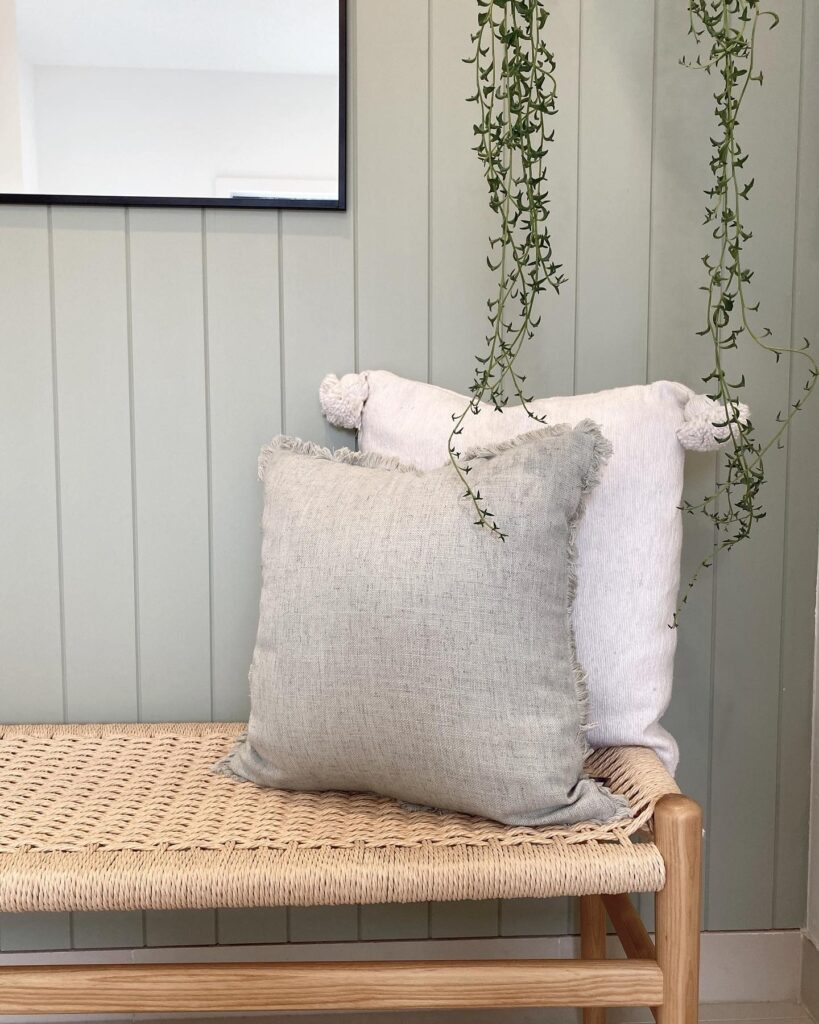 Here to help
Need further help? Contact us to discuss any product details, styling advice or other queries. We aim to give our customers not only the smoothest shopping experience but ensure the utmost confidence of your purchase. Visit our showroom today to be assisted by our knowledgeable floor staff. Where you can also view our full range in person. Alternatively, our customer service team is available Monday to Friday by phone. We will be delighted to discuss any issues or queries you may have.
Click here to shop our entire range!