Choosing the right stool for your kitchen or bar can be daunting. Here are some top tips for choosing the perfect stool for your needs without compromising on style.
At Replica Furniture we have over 10 years experience in furnishing Australian homes. We are Australian owned and operated. Our knowledgeable highly experienced staff offer personalised advice to assist you to find the right stool for your home. In Brisbane, pop into our showroom for personalised face to face advice. Sydney, Melbourne and Perth customers can call for friendly over the phone help.
Read on for our top 5 tips and tricks for choosing the perfect kitchen stool or click to view our full range of stools!
Tip 1. Measure up!
There's a difference between the height of kitchen counter stools and bar stools. Kitchen counter stools seat height is generally around 10cm (100mm) shorter than average bar stool seat height. So before you start shopping, get out your tape measure and check the height of your countertop.
Choosing the right height stool for your kitchen
Start by measuring the height of your benchtop. The average Australian kitchen counter benchtop will range in height from 90cm-95cm. Additionally, the recommended space between the stool seat and benchtop is 25cm-30cm. Therefore the ideal kitchen counter stool, seat height will measure anywhere between 63cm-68cm. This allows proximity to the counter top while maintaining ample room for leg space beneath the counter.
The image below features a classic mid-century designed kitchen stool, Replica Wishbone Counter Stool this measures 63cm in seat height and fits perfectly into this kitchen space. Ample leg space between the counter top and seat creates a more inviting look.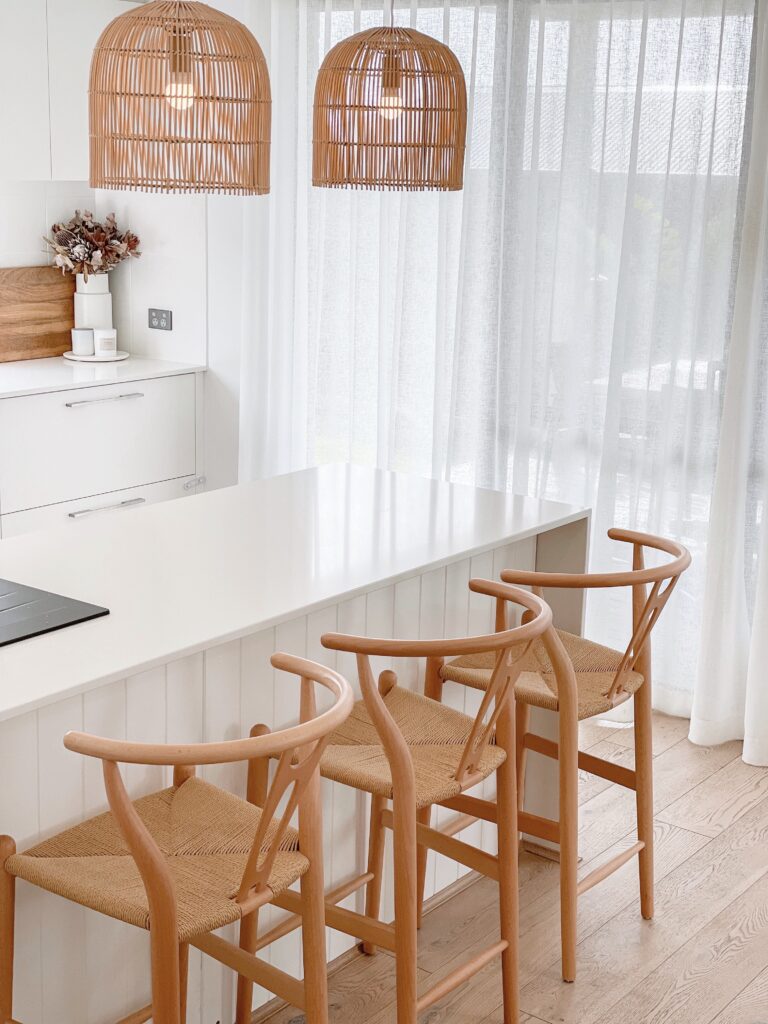 Choose the right height stool for your bar
The average Australian bar table height is between 100cm-105cm. The recommended space between seat height and bar countertop is 25cm-30cm. Therefore the optimal bar stool will measure 70cm-75cm in seat height. Of course, this will depend on the exact height of your intended bar benchtop.
Furthermore, a popular bar table design approach is to have accompanying stools with a backrest that visibly reaches just above the bar table top. This concept is popular not only for the visual effect of the bar stool's distinction from the table but also creates easy access when pulling out from the backrest to grab a seat.
The Replica Bend Bar Stool is a great example of this. This stool measures to approximately 116cm in total height, ensuring that its backrest will be easily visible and distinct next to any bar table it is paired with. While, the seat height of this stool measures to 75cm, preserving the user's leg space and overall comfortability of the chair.
Tip 2- Don't compromise on style
Your home is uniquely yours. You don't need to settle for just any stool. Find the stool that complements your home. Shop our range of Scandinavian style stools, mid-century stools, contemporary design stools, retro stools, Japandi aesthetic stools, industrial stools and hospitality stools.
On a budget? There's no need to compromise on style. At Replica Furniture we have a huge range of reasonably priced kitchen and bar stools to suit any Australian home.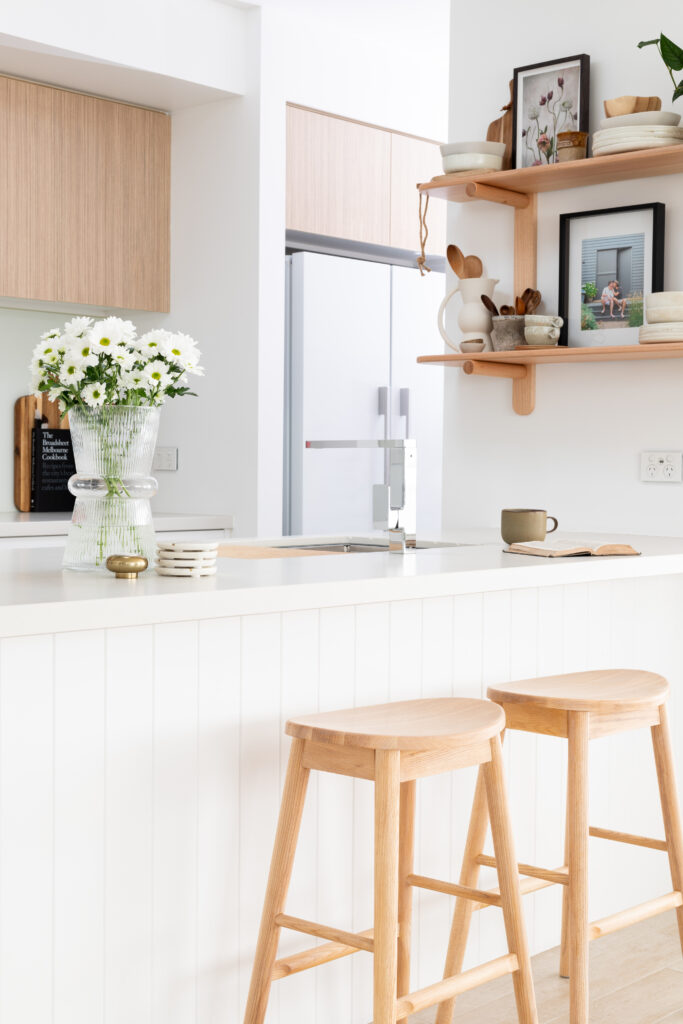 The above pictured Scandinavian Bar Stool has obvious Scandi style influence. The stool is constructed from natural timber that rings true to Nordic design. The simple and basic structure of the stool brings a minimalistic element. Considering this information, it is easy to see that this stool would be complimented in a space with light tones that holds similar minimal style influences and incorporates other natural timber throughout the space.
Let us help you in selecting the stool that will complement your interior style best.
Tip 3 – Consider weather conditions
Common trend in Australian kitchen design to bring the outdoors in to take full advantage of our wonderful Australian climate. If you're searching for stools in your outdoor kitchen, deck or poolside it is best to consider materials that will withstand our harsh climate.
As an Australian owned and operated business, we understand the severity of Aussie weather. From intense UV Rays, harsh storms and wet weather, purchasing weather resistant furniture is of utmost importance. Replica Furniture's Outdoor Range uses enduring materials such as Aluminium and Polypropylene plastic. Products such as the Replica Fermob Luxembourg Chair, made completely of Aluminium will be highly resistant to rusting.
The use of Polypropylene plastic is prevalent throughout our outdoor range however specifically heavily used in Siesta Group Products such as the Air Bar Stool by Siesta . Polypropylene is commonly used in microwavable plastics due to its durability and high melting point. This ensures UV stabilization of the product and therefore its weather resistance to scorching hot days.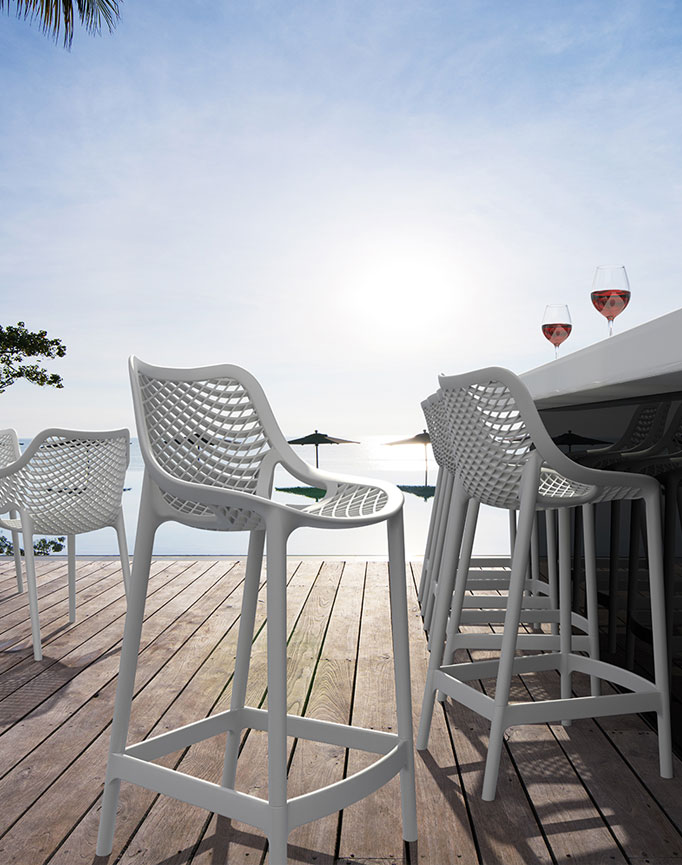 Tip 4 – Try before you buy
Shopping for kitchen and bar stools can be tricky. At Replica Furniture we know that sometimes you can't be certain you've made the right choice until you see the stools in your home. Replica Furniture's loan service allows you to borrow a stool from our showroom overnight to try it out. Simply pop into our Brisbane showroom and ask about our loan service or give us a call.
Tip 5 – Ask our experts for help!
At Replica Furniture our friendly and knowledgeable staff are available to assist you with your purchase. From finding the right height stool to general styling advice, we are here to help! Take advantage of our years of experience in the furniture industry! Our showroom staff will assist you in store showing our range of products. Likewise, our customer service team is always available by phone to chat through any product queries or design ideas. Our Kedron Showroom is open 7 days a week and office team available Monday to Friday.
Click here to get in contact with us!