Australian Owned and Operated Furniture Retailers, Replica Furniture, work to provide the best quality designer replica furniture on the Australian Market. Our range features a wide array of products inspired by mid-century and Scandinavian design. Stocking Replica Hans Wegner Designs such as, The Replica Wishbone Chair, The Replica Round Chair, The Replica Elbow Chair and many more! We have found his enduring and classic designs to have continued to stay suitable for modern Australian living spaces. Read on to find our more about our Replica Hans Wegner Products or click here to view our full range!
Hans J Wegner and Scandinavian Mid-Century Design
Hans J Wegner is known as the pioneer behind modern Danish furniture. Certainly inciting much change within furniture design throughout the mid-century era. Styles such as the Wishbone Chair and the Elbow Chair are products that remain highly popular to this day. Additionally, prevalent use of light toned Timber and minimalistic furniture throughout modern Australian homes show that the appreciation of Scandinavian style interiors has not lessened over time.
Replica Hans Wegner Dining Chairs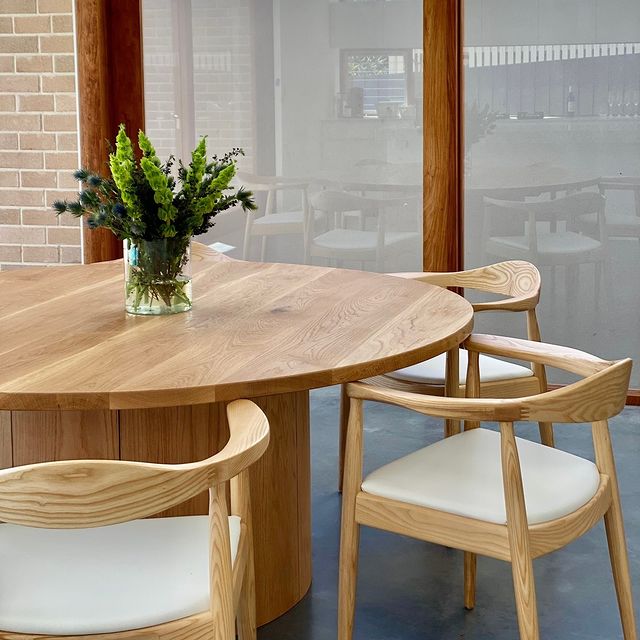 As pictured above, the Replica Hans Wegner Round Chair in Timber and White has been styled beautifully within a modern Australian Dining setting. Replica Furniture's reproduction of this chairs upholds the detailed specifications true to the original design. Additionally, the heavy use of solid ash timber with clear woodgrains strengthens the Scandinavian impression of the chair. Moreover, the thoughtful inclusion of a white seat pad sustains the famously light and airy feel of Scandinavian furniture.
Understanding the notoriety of Hans Wegner Chairs, Replica Furniture offers an array of different finishes within these notorious designs. This allows the modern Australian to implement Scandinavian designs into their homes with the best suiting finish for their space. This eliminates the annoying process of having to alter a styled space to fit one specific product. Such finishes feature use of Walnut, Leather, Fabric, Rattan, Beech Wood, Ash wood and more across an array of different products!
Versatility of Replica Hans Wegner Chairs by Replica Furniture.
One main attraction of the Replica Hans Wegner Chairs is their extreme versatility of use. Such examples are the Replica Hans Wegner Round Chairs or the Replica Hans Wegner Elbow Chair. From being placed in hotel foyers, meeting rooms, office waiting rooms and around home kitchen tables. Furthermore, in retro styled bars, clubs or restaurants. The wide range of colour finishes available also contribute to this high versatility. Allowing multiple of the same design in alternating finishes to be placed throughout different offices, providing both cohesion and variation. Therefore, these chairs have proved to remain suitable for Modern Australian living & cater to a wide range of differing needs.
Replica Hans Wegner Wishbone Chairs.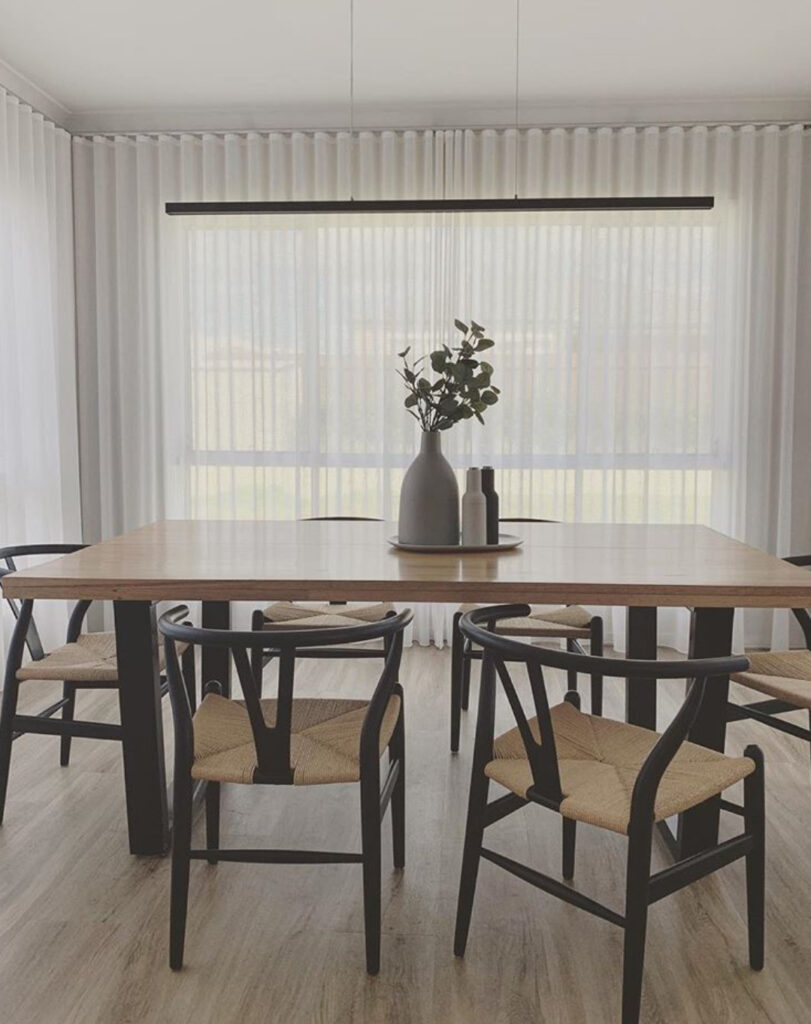 The Replica Hans Wegner Wishbone Chair is another stunning design by Hans Wegner that has proven the test of time. The sleek and unique structure adds personality to any seating or dining space without taking too much attention. Replica Furniture's reproduction is an identical make of the beloved wishbone structure and cord woven seat. Now available in a range of different seat and frame finishes.
Colour Variations to suit your needs.
j
From Beech Wood, Walnut, White, Black and more, you will be able to find the exact Replica Hans Wegner Chair that uniquely suits your space.
Lounge Chairs
Replica Furniture extends our admiration of Hans Wegner Designs by producing a variety of Replica Hans Wegner Lounge Chair Designs. The Classic designs once revolutionizing Mid-century Scandinavian Interiors have since sustained their appeal. Therefor have proven to remain suitable to modern Australian Living. Replica Furniture works hard to best emulate Hans J Wegner's exact designs to the highest quality possible. Much alike Replica Hans Wegner Dining Chairs, the Replica Hans Wegner Lounge Chair's are now available in a range of differing colour finishes.
For Example, the CH25 Easy Chair by Hans Wegner Replica is a simple yet effective design that effortlessly emits an understated relaxing atmosphere no matter where it is placed in the home. The Natural finish of this product rings true to the initial design in turn holding clear Scandinavian influence. Whereas the Black finish obtains the pre-existing loved structure of the chair only now in a shade that may be more suited to a formal or darker toned space.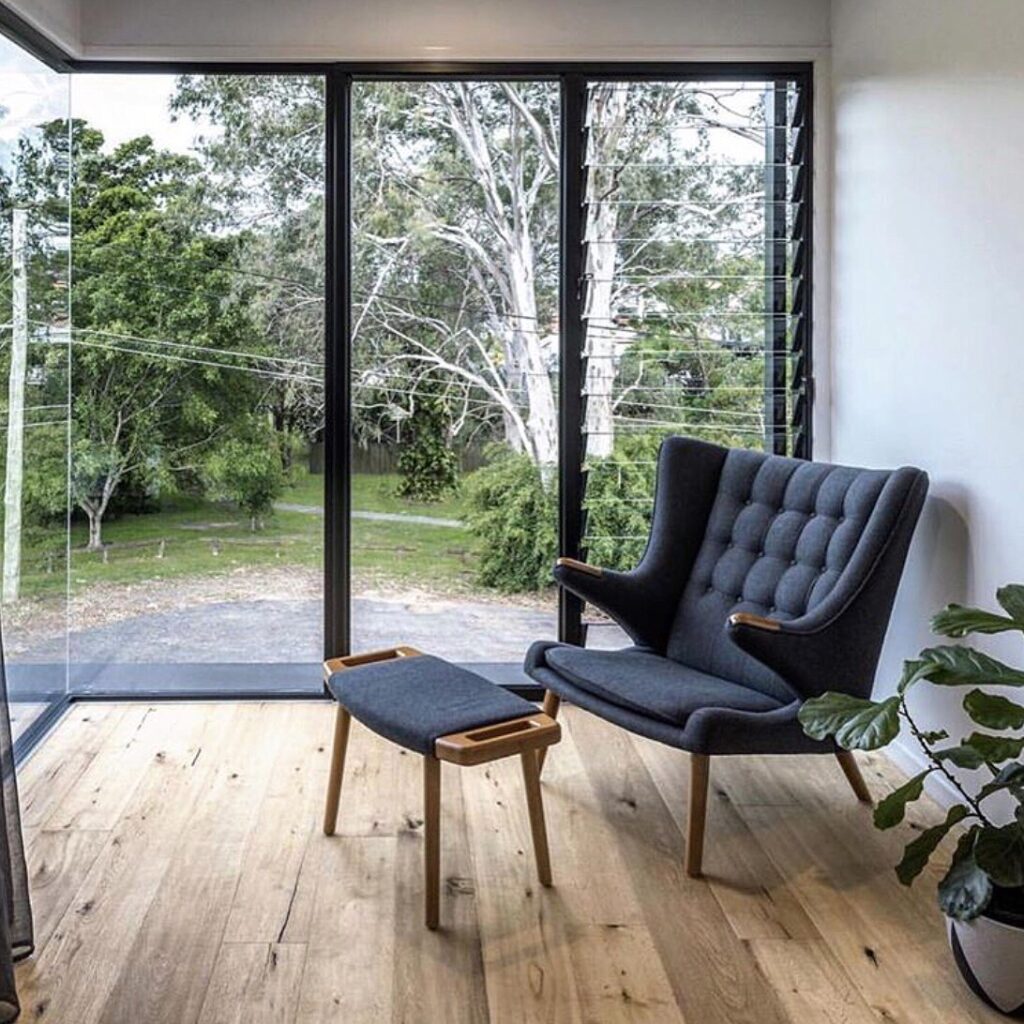 Lounge Chairs Continued
The Replica Papa Bear Chair by Hans Wegner is another paramount design that has not lost its charm through time. Available in both a mature Grey Fabric or a more classic Black, the Papa Bear Lounge Chair speaks for itself.
Similarly, the Peacock Chair by Hans Wegner is another design that has held its appeal firmly overtime. The Replica Peacock Chair by Hans Wegner is available in two colour finishes. Therefore this allows Modern Australians potential for incorporating Mid-Century Scandinavian design into other popular interior styles. Such as the white colour option suiting well in a Modern Hamptons Style home.
Loan Service
With so many color finishes and differing materials available, choice can quickly become overwhelming. From use of Walnut, Beech Wood, Solid Ash Timber, Rattan, Fabric and more, it is hard to know exactly which material will best suit your space. So why not take advantage of Replica Furniture's Loan Service. The Loan Service allows you to take home up to 3 makes of any Dining Chair or Stool for 24hrs – free of charge! Therefor this allows you to try the product out in your space to ensure it is perfect before making a solid purchase. This is all part of Replica Furniture's dedication to ensure customers are leaving with he utmost confident in their purchase.
Here to Help!
Need assistance finding the best colour finish for your space? Unsure of which Hans Wegner Design is best suited to your style? Get in contact with us today to find your ideal furnishings best suited to your personal style! Furthermore, visit our Brisbane showroom today to view our full range and be assisted by our knowledgeable and friendly staff. Additionally, reach our helpful customer service team by phone Monday to Friday. In short, we are happy to chat through any product queries or just general styling advice. This is all part of our dedication to ensuring our customers not only receive the best possible shopping experience but are also confident in their purchase.
Click here to browse our Replica Hans Wegner Products.