Starting the furnishing of your dining room can be a long and tricky process. From understanding how to best work with the space all the way to styling, there is a large scope to consider!
With over 15 years experience in providing quality replica designer furniture to the Australian public, Replica Furniture are no stranger to the dining room configuration process. From styling recommendations and placement tips, we are always keen to share our expertise. Subsequently, we have compiled our top tips and helpful considerations when furnishing your dining room. Read on for a step by step guide on how to start and finish your dream dining room in your Brisbane, Sydney, Melbourne home. Alternatively, visit our Brisbane Showroom today to view our full range and chat with our friendly staff!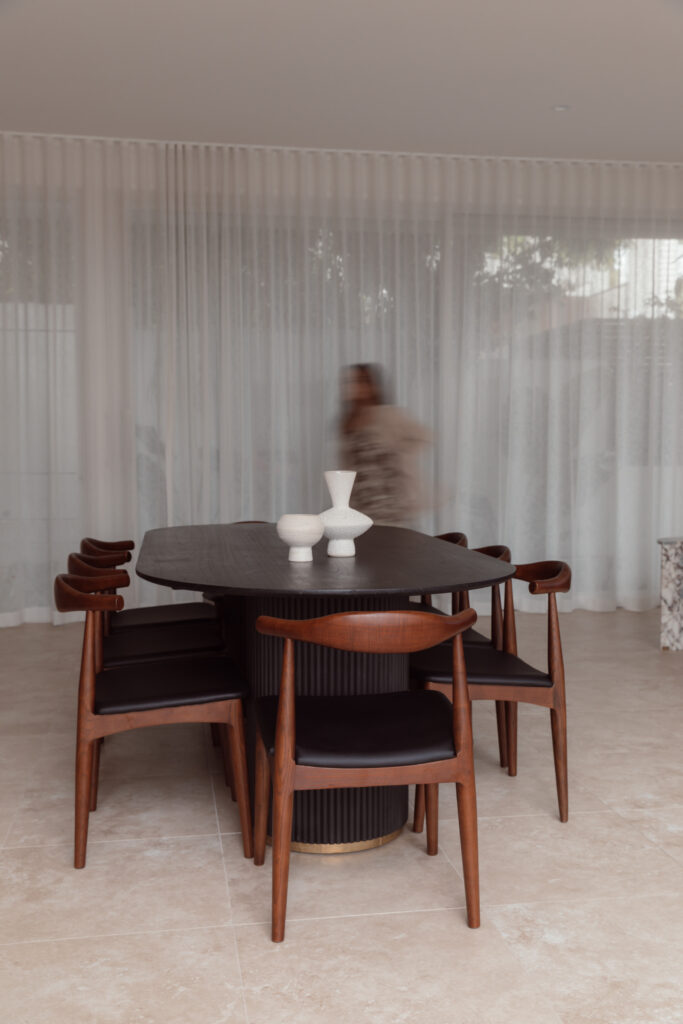 Consider the Space
The first and most important thing to consider when furnishing your dining room is space. The ideal dining table will compliment the spatial limitations of your area. For this reason, narrow your search by shopping one of two categories: Round vs Rectangle.
Round Dining Tables with simplistic and/or open bases compliment small spaces really well. This is because they are able to provide sufficient surface area without bringing in unnecessary bulkiness to an already limited space. As showcased through the Replica Tulip Table, simplistic bases allows more space for chairs to be completely tucked in. Which thereby encourages maximum use out of the limited space.
If you are working with a large and open space that is not bound by walls, a rectangle dining table will serve you well. The natural grandness will fill an open room effortlessly. Furthermore, a stately rectangle table creates clear distinction for the dining area despite lack of physical closed walls.
Room for the Whole Family
A common hinderance within the process of finding a dining set is determining how many people you want to seat. It seems simple, a family of four needs four chairs… but what if the kids bring a friend over for the night or grandparents stay for a weekend? A general rule to avoid this dilemma is to go with what number is normal most nights of the week. This is will avoid unnecessary clutter and overcrowding the room.
In terms of surprise visits from friends or family, a multipurpose bench will be your best friend! Obtaining a multipurpose bench that works equally as well in the bedroom or in the entrance way as it does at the end of the dinner table will create available seating, for only when needed.
Considering the use of an outdoor dining set is ideal if you are still worried about insufficient seating. Replica Furniture offers a wide range of outdoor dining tables and outdoor chairs sets that seat up to 8-10 people easily. This will allow a separate area for those larger gatherings where everyone can still be comfortable and thought of. For instance, Vegas Outdoor Dining Table by Siesta is a weather resistant, stylish and durable piece that can effortlessly seat up to 10 people.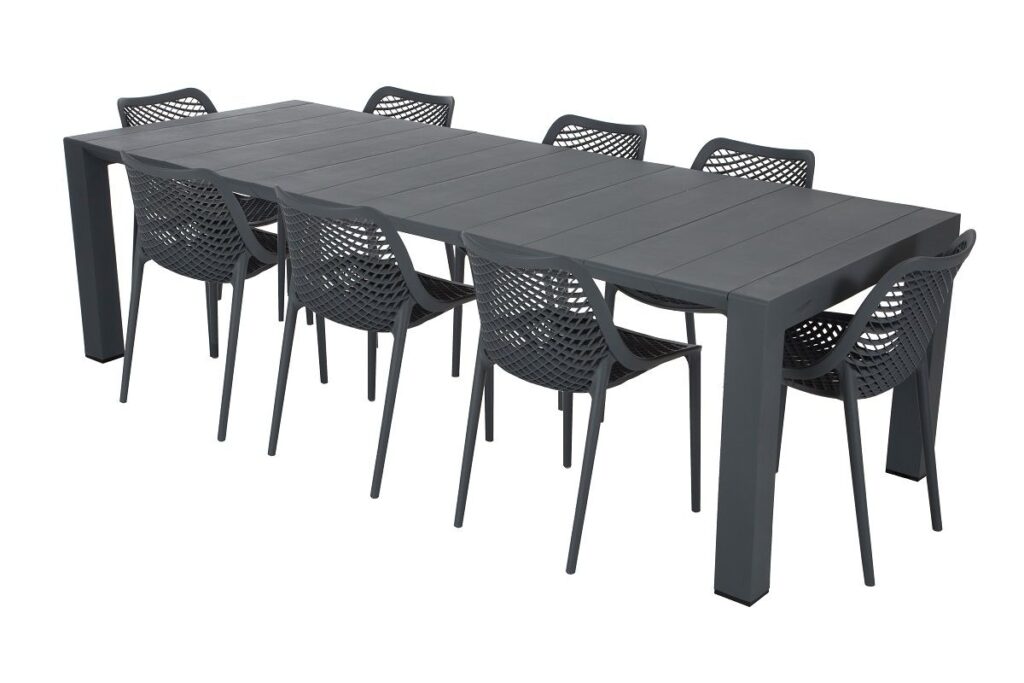 A Complimentary Match
Pairing a dining table with the wrong set of chairs has the potential to completely overthrow any previously envisioned style. To avoid this, always consider material and proportions. A great dining table and chair pairing will have some element of shared or complimenting material as well as look proportionate in size when paired together. As each pairing will depend on your exact selection, here are some examples of great pairings.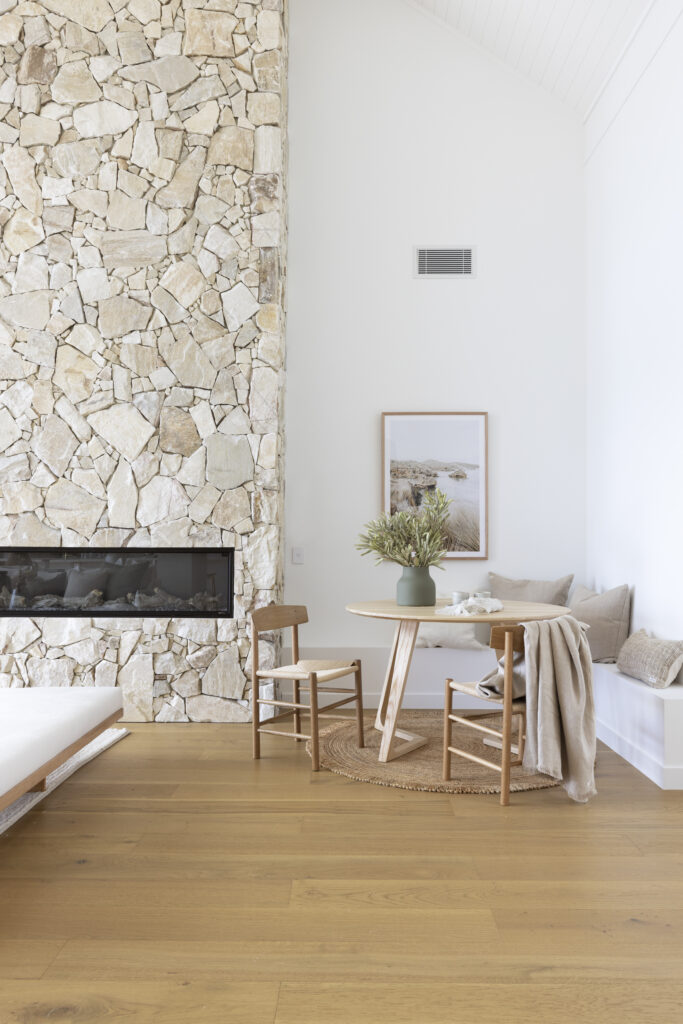 The use of solid ash timber provides a light and airy feel within both products. Which subsequently is only amplified once the two are brought together. The slim table top and base along with the light-weight chairs ensure a proportionate look once paired. Additionally, the naturally occurring woodgrains within both products showcase similar tones and textures. Pairing these two products together will create cohesion and unity within any space.
The shared material of thick Walnut timber within both of these pieces makes for a seamless pairing. The stately look and innate bulkiness of this material will ensure a proportionate look once both products are paired together. Complimenting tones are showcased through the natural woodgrains and growth marks remaining partially visible within both products.
Don't Forget Dimensions
One aspect that is always overlooked when fitting your dining room is the heights of your table and chairs. There is nothing worse than finding your perfect dining set, only to discover that once assembled, the chairs are either completely hidden by the taller table or alternatively that they cant be tucked in at all.
To avoid this, measure your intended table's height, both from the floor to the top and floor to the underside of the table. After this, measure your desired dining chair's seat height. For utmost leg room and comfortability when seated, aim for 20-25cm of clearance between the seat and underside of table.
Regarding arm chairs, be sure to measure the total height ranging from the start to the end of the chair. This will determine just how far you will be able to tuck your chair in. Ensure that you are happy with the results as untucked chairs can take up unnecessary room.
The optimal space left between seats is around 5-7cm of open space on each side of the chair. This will prevent any damage from scraping when pulling out or elbows knocking together at dinner time.
Armchairs however can be more tricky as they usually obtain a bigger width. Therefor, unless purposely trying to fill an open space, armchairs work well as only host and hostess chairs. Placing armchairs at each end of the table with armless chairs exclusive to the sides will also create style depth within your dining space.
Complete the space with a Rug
Implementing a rug within your dining area serves many useful purposes. A rug will enhance your space by providing elements of softness and repose. This contradicts any bulkier table and chairs and provides contrast within the room. Use of a rug also completes the room by creating more distinction for the dining area that is separate from the remaining house.
Finding the perfect rug will depend largely on the selected dining set as majority of the same rules apply. A rectangle rug will suit a rectangle table and vise versa for round tables. The ideal rug will fully cover the base of the table and chairs, either tucked in out out. To ensure this, allow at least 30cm of space from the edge of your rug to the start of your tucked in chairs. This will allow one to pull out a chair completely and not worry about being on uneven ground.
Loan Service
Still unsure of the best match to your dining table? Why not take advantage of Replica Furniture's Loan Service. The Loan Service allows you to take home up to 3 makes of any Dining Chair or Stool for 24hrs – free of charge! Therefor this allows you to try the product out in your space to ensure it is perfect before making a solid purchase. This is all part of Replica Furniture's dedication to ensure customers are leaving with he utmost confident in their purchase.
Here to Help!
Need assistance further assistance? Get in contact with us today to find your ideal furnishings best suited to your personal style! Furthermore, visit our Brisbane showroom today to view our full range and be assisted by our knowledgeable and friendly staff. Additionally, reach our helpful customer service team by phone Monday to Friday. In short, we are happy to chat through any product queries or just general styling advice. This is all part of our dedication to ensuring our customers not only receive the best possible shopping experience but are also confident in their purchase.